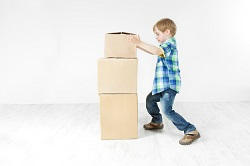 What To Look For When Hiring A Removal Company In London
13May 2015
Hiring a removal company in London seems to be quite the modern day challenge because with simple Google search you will have so many man with van companies come up that you will actually be dazed, overwhelmed and confused! It is a common practice to think that we need to hire this sort of company to help us with our relocation, however we aren't always guaranteed stellar service much less even a legitimate company when it comes to moving from one place to the other. The internet has opened up a vast variety of internet crime and fraud, making it very simple for someone to create a real looking website and then disappear with your money rather than actually turning up for your move! One of the best bits of advice that we can give people is that they should never ever pay cash to a company because there is absolutely no record of that transaction. Always strive to pay via bank card or merchant processors such as PayPal or Stripe because there will be a record of when, how much and who you paid, which makes dealing with fraud very simple.
Having a secure and safe budget set aside is probably the most imperative thing when it comes to hiring a moving company. The reason for this is that you have already spent so much, the last thing you want to be doing is feeling that you're out of pocket and cannot cope with any more expenses. Moving companies often cost a couple hundred pounds, so providing that you can spare that out, you should be just fine! You do not want to get yourself in a situation whereby you have paid a deposit and then they are asking for the rest of the money and you're unable to pay it. Relocation is never cheap and it is imperative to know that having a budget that can afford it will always work out best for you and the movers in question!
The next thing you should be looking at is all the company's previous work. The reason for this is that as previously mentioned, it is so easy to fall into the trap of hiring a company online trusting everything you see. Always use your eyes and ears carefully and if you feel that there is something that is not right with your situation, be prepared to walk away instantly. Make sure that all the removal staff are completely licensed and qualified as well as being insured to drive the vehicle that they bring along. Remember, your goods are going into the van and you need to make sure that everything is safe and will reach your next destination properly without the headache of thinking about what will be happening to them.
If you are ever not sure, simply ask the staff to show you their driving licenses as well as enquire with the company whether they are insured to drive the van.